For many people, hope comes from setting a goal and working towards it. It motivates us to action. So when we find ourselves feeling defeated and hopeless, it can paralyze us. بطولة اوروبا 2022 It takes away our motivation to work toward things, and ultimately can leave us without the motivation to even live.
Hope is powerful. It's more than just an idea or a thought that you can express with words and debate rationally. Hope is an expectation that something good will happen in the future. Yet when we feel defeated and hopeless, the future becomes dark and cloudy—making it next to impossible to see how anything good could ever happen again.
When you're feeling defeated and hopeless, here are 4 steps to pulling yourself out of the darkness:
Recognize new possibilities in your life and set a goal – your goal might be to meet new people and expand your community, or it might be to repair a broken relationship with a friend or family member. Or it might be something vastly different. It doesn't really matter what your goal is, it simply matters that you identify one.
Plan specific steps to meet your goal – if your goal is to meet new people, think about how you'll do it. Will you join a book club, take a dance class, volunteer with an organization that's near and dear to your heart?
Practice new behaviors – remember, if you want to change the way you feel, you must change the way you think and behave. Change is your friend. That's not to say change is easy—because often it isn't—but when you're feeling defeated and hopeless, change is often more than welcome.
Do the right thing for you – whatever this means to you. If you want to find hope, you have to know what the right thing is. Consider journaling the possibilities and carefully considering the pros and cons of each option you have.
The first of the 4 steps can be the most difficult. If you are caught in fear or pain, feeling defeated and hopeless, it can feel so difficult to overcome that feeling of there being no new or better possibility.
This is especially true if you have experienced trauma in the past. The bottom of the brain is responsible for recognizing and processing danger and activating survival systems. It causes you to react based on past experiences, which can make it impossible to think, plan and act with integrity if the place you are responding from is unhealthy.
Resetting that fear makes room for hope. To do that, we use Thought Field Therapy (TFT), a technique used by first responders in crisis situations around the world. This little known but highly effective healing technique communicates with the bottom part of the brain to relieve overwhelming emotions. It pries open the door of possibilities and allows us to look more objectively at our circumstances.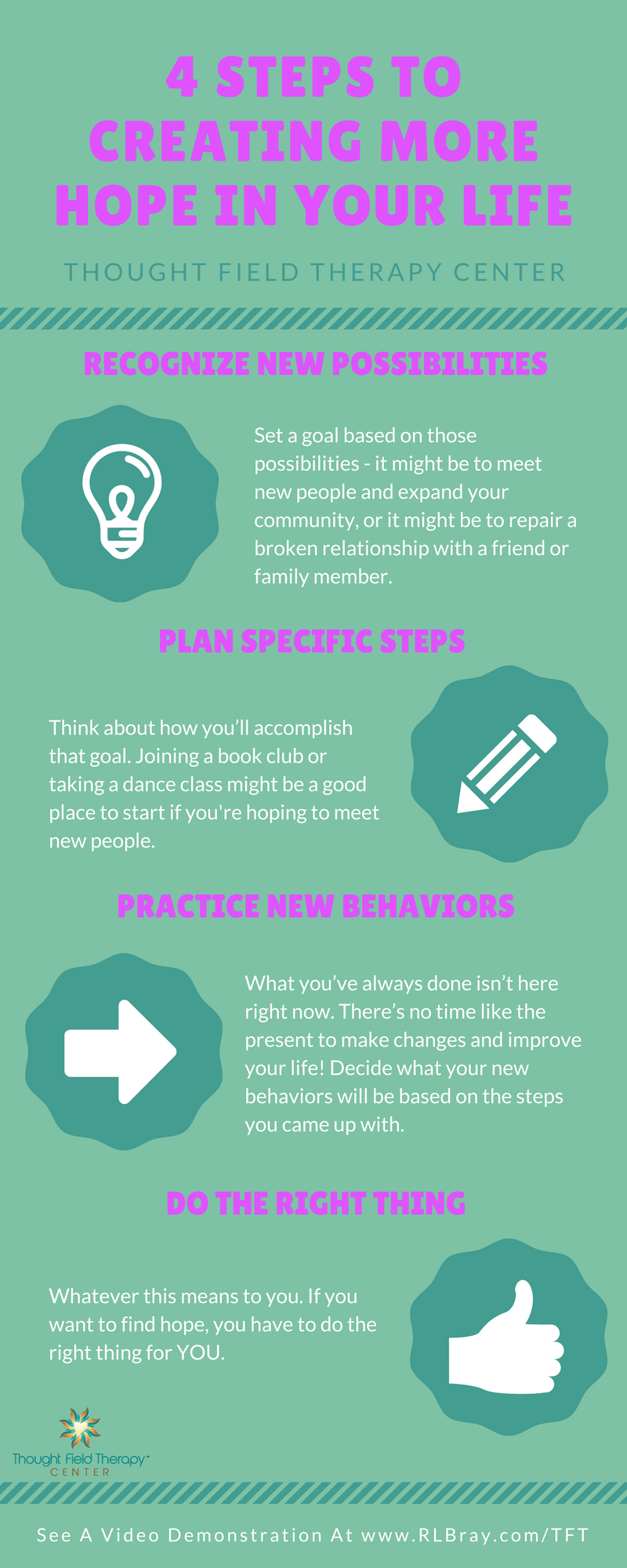 Finding Relief When You Are Feeling Defeated And Hopeless
Here are two stories of women who have used TFT to make room for hope:
Mary:
As a child, Mary experienced verbal and emotional abuse at home. Her parents both had sad stories of their own, including her father's eventual suicide.
By the time I met Mary, she was in her 50's and had a long history of severe depression. She had suffered for years with chronic physical and emotional pain from debilitating migraines and hormonal imbalances starting in her late teens. She tried various treatments, most of which ended in failure, either right away or after brief seasons of relief. 
Mary was left feeling defeated and hopeless that she would ever have the life she wanted. The one thing Mary found hope in? The thought that if it came down to it, she could always commit suicide and put an end to her suffering.
I started using TFT with Mary to help her gain some relief from her traumatic past and the physical and emotional pain she was struggling with. 
By reducing her emotional overwhelm, Mary was able to begin finding hope and possibilities in her daily circumstances. She was able to make significant changes in some areas of her life and is now able to have discussions with me about the possibility of relationships that fit her values and desires. 
We have been able to talk about the steps she'll need to take in order to make those possibilities a reality and develop a new lifestyle with joy. Mary has been practicing those steps – finding new treatments for her conditions and learning to be more assertive in making sure her relationships fit her values and desires. مرات راموس She is doing things that are right for her and finding hope in new places, both big and small.
Ultimately, Mary still holds onto her old version of hope – the knowledge that if things become unbearable and she finds herself feeling defeated and hopeless again, she has a way out – but she is now open to finding hope in other places as well.
Are you like Mary?
Alice:
Alice is 95 years old. She is concerned about her declining physical health and disconnection from her community. A few years ago she had to move and is missing the connections she had in the place she had spent her life. She has reached the age where she is starting to lose some of her closest family and friends. حصل على لعبة (فيلم)  
As an avid tennis player earlier in life, Alice found herself unable to play anymore; without any ways of being physically active, and lacking the connections she had depended on for so long, 
Alice found herself feeling defeated and hopeless, frequently wondering whether life is even worth living anymore.
As I talked with Alice, I discovered she had an unresolved sense of inadequacy due to trying to reach the impossible standards set by her parents. We engaged in a TFT tapping session to address that feeling of inadequacy, along with tapping for the hopelessness she felt related to a desire to "fix" her relationships with family and friends who had passed away. 
After tapping, we talked about her comfortable living situation, her close friendship with one of her children, and the fact that she had many people around her to love and be loved by. 
Alice was able to discover a new sense of hope and a new purpose for living.
Alice's story gives me a lot of hope. Seeing someone live as well as she does at 95 gives me the ability to look forward and have hope for a long and wonderful life. 
For a demonstration of how to use Thought Field Therapy, watch the video on this page.
To learn more about how Thought Field Therapy is used by first responders, and how it can help you, join Dr. Bray live online in this upcoming training series!